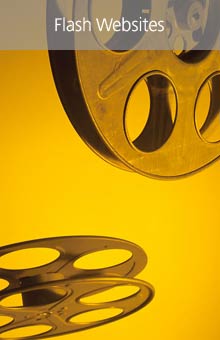 ...Flash Design: Flash Websites and Flash Banners

Some sites require moving graphical images as they need to be very eye catching and dynamic. For these kinds of sites or if you need an animated banner designing then Flash can be a good choice of media.
We do not design websites in Flash by default, as some designers do, because Flash has some limitations which mean this would not be a sensible thing to do. For instance, download times of Flash-built sites tend to be long meaning that potential customers will give up on your site before they've gotten past the intro. Also, search engine rankings of sites built from Flash are generally much much lower than those built from standard html this means that all-Flash sites will generally see less search engine traffic than, say, the websites that we build. The trick is to know when and how much Flash to use. and this is where we come in, we can advise you whether your site would benefit from Flash or whether you are best steering clear of it, and if this is the case then what your alternatives are.
For your perusal we have provided below some examples of dynamic images designed in Flash. If you think you would like a banner or part, or all, of your website designing in Flash then please contact us for a quote and some free advice. Equally, if you have an all-Flash website and are concerned with what you have read above then get in touch and we will review your website and give you some advice to help you.