...Case Studies
Athena Body Arts is a Leeds based company who speciliase in Henna art, they do their work typically for events such as Weddings, Corporate events, Henna parties, Fashion shows, and Cultural celebrations, Trade fairs, Anniversaries, Birthday parties and Fundraisers. Fresh Biz Marketing were approached to carry out a wide range of marketing activities, these were:
Stage One - Corporate Identity

Fresh Biz Marketing created the identity based upon a brief provided by the client. The client asked for the design to incorporate a look of "Calligraphy handriting" to link in with the Henna Art services they provided, use of the colours purple and lilac were incorporated. Fresh Biz Marketing completed the design by using a custom made font to produce a modern professional looking identity.
Stage Two - Stationery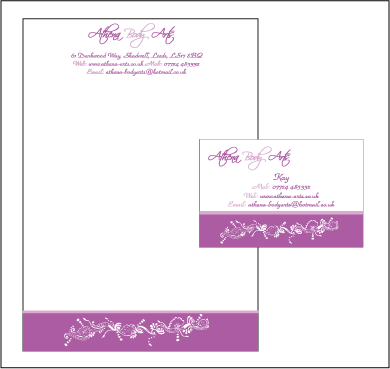 The logo was used to design letterheads, price lists and business cards, the final designs were both modern and professional which were key to the image the client was trying to represent.

Stage Three - Website / Online Marketing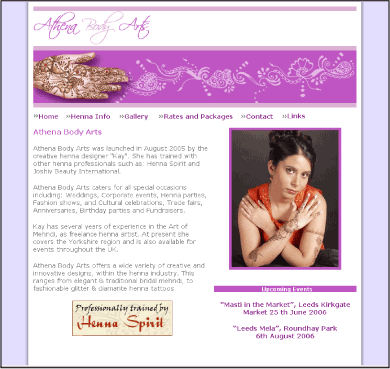 Athena Body Arts
To be effective the web site had to be designed to finish high on the search engines for the keywords chosen by the client. Fresh Biz Marketing created an attractive, clear and professional looking website which incoroporated a gallery of images of work that the client had comnpleted. Fresh Biz Marketing also provided web hosting, set up the domain and email accounts for this project. Significant work was done by Fresh Biz Marketing researching keywords to be used in the website so that that it would feature highly in all the major search engines. The look and feel of the site also linked in well to the stationery and literature that had been created for the client.