The purpose of most websites is to advertise / sell products and services of some description. Many businesses decide, rightly, that it would be a great idea to "get a website" so they do just that. A few months after going live they start to think "OK... so where are all these new customers I was expecting?". This is a good question and one that troubles the majority of businesses, so, you're not alone!

Contact Austen today for a free no obligation consultation about how we can boost sales from your under-achieving website. Austen is a Google-approved Qualified professional having achieved the status of "Qualified Individual" in the Google Advertising Professionals programme. Basically this means that he has passed the Google Advertising Professional Exam and has managed advertising campaigns above a certain size for a continued period of time. Let Austen show you through the minefield of pay per click advertising.
If you are advertising in quite a competitive market or need some traffic while you are waiting for the search engines to kick in then PPC advertising (pay per click advertising) is for you! It is the quickest, most flexible and controllable and possibly the most cost-effective form of advertising that there is. OK, those are big assertions... how can I justify those claims?
Quickest for of advertising? Within hours you could have your advertising message being displayed to people across the globe. Can you think of anything faster?
Flexible advertising? You decide who gets to see your adverts, if you only want people in the UK searching for "antique bugles" to see your advert then that's what we do! Not only can you filter by keyword (i.e. what people are searching for) but you can also filter by geography or language too (i.e. only show the advert to people in Japan .... only show the advert to Spanish speaking people the world over). PPC advertising is much better than conventional forms of advertising like direct mail, telesales, TV ads etc which are little more than the blunderbuss approach to reaching your target market.
Controllable advertising? You can decide your daily / monthly budget... and you can change them whenever you like.
Most cost-effective form of advertising? Because there are no materials that need to be printed or posted etc and the time associated with producing your ad is small in comparison to other forms of adverts, costs associated with PPC advertising are really quite low. This combined with the fact that you can advertise directly and very specifically to your target market (i.e. relatively little of your advertising effort is wasted) means that the effectiveness of your advertising efforts can be very high. This cheapness of advertising coupled with the impact that advertising has make online advertising extremely cost-effective.
Not that you should need any more reasons, but one more big plus about starting a PPC advertising campaign now is that the vast majority of your customers won't be benefiting from this form of advertising... yet! This means there's rich pickings to be had out there on the web and they're yours for the taking!
We guarantee that we can advertise your products and services more cost-effectively than you are doing! Let me come and have a chat with you to learn more about your business and I will show you what I mean. The only cost to you is a little of your time, the cost of not seeing me may be a loss of market share!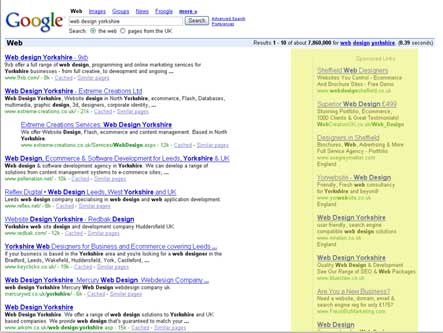 Google Adwords is pay per click advertising wich features in the right hand column on each google page